Sat / 12 December 2020
Pantone Color(s) of the Year 2021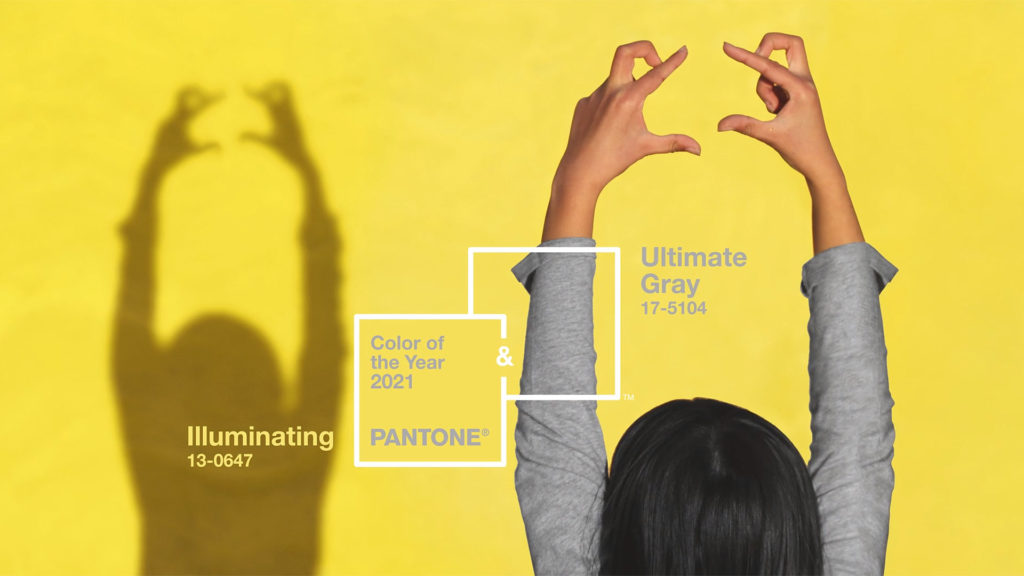 It's time to leave 2020 in the past, along with Pantone's COY Classic Blue and kick off 2021 with the promise of something sunny and friendly. Pantone recently announced that it had chosen two colors of the year for 2021: 17-5104 Ultimate Gray + 13-0647 Illuminating, two independent colors coming together to convey a message of strength and hopefulness.
"The selection of two independent colors highlight how different elements come together to express a message of strength and hopefulness that is both enduring and uplifting, conveying the idea that it's not about one color or one person, it's about more than one," commented Leatrice Eiseman, Executive Director of the Pantone Color Institute. "The union of an enduring Ultimate Gray with the vibrant yellow Illuminating expresses a message of positivity supported by fortitude. Practical and rock solid but at the same time warming and optimistic, this is a color combination that gives us resilience and hope. We need to feel encouraged and uplifted, this is essential to the human spirit."
PANTONE 17-5104 Ultimate Gray is emblematic of solid and dependable elements which are everlasting and provide a firm foundation. The colors of pebbles on the beach and natural elements whose weathered appearance highlights an ability to stand the test of time, Ultimate Gray quietly assures, encouraging feelings of composure, steadiness and resilience.
PANTONE 13-0647 Illuminating is a bright and cheerful yellow sparkling with vivacity, a warming yellow shade imbued with solar power.
Pantone explains that as people look for ways to fortify themselves with energy, clarity, and hope to overcome the continuing uncertainty, these spirited and emboldening shades satisfy our quest for vitality:
"Emboldening the spirit, the pairing of PANTONE 17-5104 Ultimate Gray + PANTONE 13-0647 Illuminating highlights our innate need to be seen, to be visible, to be recognized, to have our voices heard. A combination of color whose ties to insight, innovation and intuition, and respect for wisdom, experience, and intelligence inspires regeneration, pressing us forward toward new ways of thinking and concepts."
Here are a few ways to introduce your Jasper space to Ultimate Gray + Illuminating:
Accents: Start off small and infuse your space with the color combinations. Whether its artwork, throw pillows, flowers, you can easily incorporate this uplifting color combination. Small pops of yellow decor can really bring an interior to life.
Living Area: Using the cheerful yellow shade in a room instantly adds warmth, energy and vibrancy to the decor. Add a bright yellow color accent chair paired with throw pillows on your sofa. Throw a rug with an over sized print to the mix, it will add a whimsical touch to your space. Either color can be used effectively as an accent or even one of the primary hues of your color scheme when muted or combined with a complementary hue. Pantone also suggests using a vibrant palette such as Aviary, "A lively and joyful grouping of color emblematic of vibrant and eye-catching rich bird plumage. PANTONE 17-5104 Ultimate Gray brings a natural element to this upbeat palette of cheery brights that includes PANTONE 13-0647 Illuminating, while the contrast of a lofty white PANTONE 11-4201 Cloud Dancer injects drama." The options are limitless.
Bedrooms: Neutral grays with a combination of sunshine-yellow has remained a classic blend. And one space that you can majestically jazz up with the yellow-gray combination is your bedroom. This color tone works perfectly for bedrooms, allowing the free play of natural light in the space in a way that creates an illusion of a wider, more cheerful dimension and atmosphere! Create a clean, balanced look in the bedroom by adding a new comforter and accessories to match.
Kitchen: This cool gray and canary yellow combo will give your kitchen a fun vibe. Pull your look together with pops of color around the room by adding barstools, rugs, appliances, fresh flowers, dish towels and other accessories in of variations of these shades.
The Pantone Color Institute is the business unit within Pantone that highlights top seasonal runway colors, forecasts global color trends, and advises companies on color for product and brand visual identity. Through seasonal trend forecasts, color psychology, and color consulting, Pantone Color Institute partners with global brands to effectively leverage the power, psychology, and emotion of color in their design strategy. The Color of the Year selection process requires thoughtful consideration and trend analysis. To arrive at the selection each year, Pantone's color experts at the Pantone Color Institute comb the world looking for new color influences.
For over 20 years, Pantone's Color of the Year has influenced product development and purchasing decisions in multiple industries, including fashion, home furnishings, and industrial design, as well as product packaging and graphic design.
Have fun with the Pantone 2021 Color of the Year! We want to see how you integrate these new hues into your Jasper spaces. Snap photos of the new colors in your Jasper home décor and tag us @liveJasper #livejasper to share playful and interesting ways to incorporate the Pantone COY.
image credit: pantone.com
The Royal Treatment
In ancient Greece, any guest could be a god. That's how we think of our residents and the folks they invite over. It translates to more than just respectful customer service. It means genuine empathy and concern for people's well-being. Our 24/7 on-site staff obsess over details to make your home life warm and comfortable. You can hit them up for anything from laundry pickup and local organic food delivery to dog walking and excursion planning. Friendliness begets friendliness. Joy yields more joy. That's what it's all about. Discover new, luxury San Francisco apartments at Jasper in Rincon Hill. Be sure to follow Jasper on Facebook, Twitter, YouTube and Instagram as we share news and updates about our exciting new community.  #rentjasper It's a heck of a place to call home.