Thu / 28 January 2021
Ferry Building Finds We Love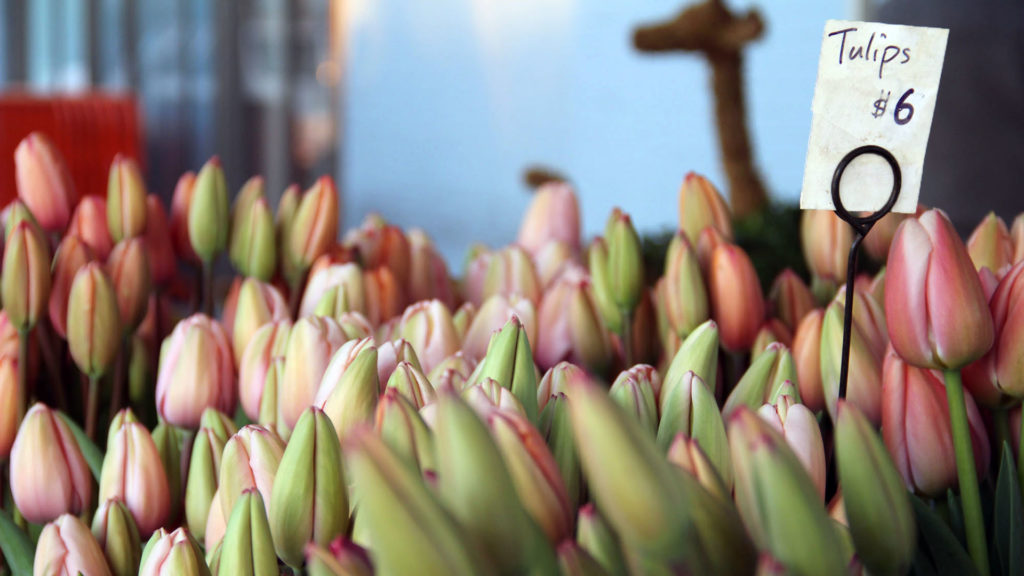 Fall in love with these seasonal favorites at the nearby San Francisco Ferry Building, just a mile from your door at Jasper. Spoil your loved ones or treat yourself to ginger heart truffles, a craft cocktail, creamy triple cream cheese, mini cakes and more.
Flowers + Fresh Finds. Pick up a beautiful bouquet of fresh flowers for your love at the CUESA Ferry Plaza Farmers Market. You can also find fresh fixings for homemade meals and more. Order a curated selection of winter fruit at cuesabox.square.site. The market is open Saturdays 8 a.m. to 2 p.m. and Tuesdays/Thursdays 10 a.m. to 2 p.m.⁠
A Love Letter to Esmeraldas, Ecuador. This special Valentine's Collection from Dandelion Chocolate has 3-dessert courses each in a box from chocolate covered figs to single-origin tropical flavored truffles.
Mini Heart Cake. Miette's mini Scharffen Berger cake is dense and moist, and glazed with two coats of smooth-as-silk bittersweet chocolate ganache. It's a lot of chocolate, yes, but it's never overwhelming because of the surprising variation in textures and flavors.
Heart Shaped Cheese. Heart's Desire, the special Valentine's Day Triple Cream cheese from Cowgirl Creamery features an indulgent heart-shaped Mt Tam, with charmingly sweet pairings like @dandelionchocolate single-origin, bean-to-bar chocolate, sumptuous raspberry preserves from @quinceandappleco, and vanilla bean & chocolate shortbread from their Petaluma neighbors @rusticbakery.
Crème Brûlée & Tiramisu Smooch Tarts. Crème Brûlée has rich and creamy vanilla custard base, finished with caramelized sugar. Tiramisu features layers of chocolate ganache, ladyfingers soaked in espresso and amaretto, silky mascarpone cream. Both in signature pâte sablée crust.
Love Birds Truffles. This box from Recchiuti will set hearts aflutter. Including Burnt Caramel truffle, Force Noir, Ginger Heart, and Piedmont Hazelnut, this box makes the perfect gift for every confection lover in your life. Can't make it to the Ferry Building? Try making a batch of their decadent Vanilla Cupcakes with Chocolate Truffle Cream at home with this recipe.
Animal + Mezcal Boilermaker. Enjoy the longtime bar tradition of a "beer and a shot" at home thanks to Fort Point Beer Company. Each pairing includes a six-pack of beer and a liter of liquor, selected by resident sensory expert and head brewer Mike Schnebeck.
Classic Cocktail. call yourself a [home bar] mixologist after you master this classic cocktail with a twist. Recipe courtesy of @ferryplazawine (all ingredients available for purchase separately or as a set, for pickup at their shop — open Monday-Sunday from 10 a.m. to 6 pm.)⁠⠀
⁠⠀
Oaxacan Old Fashioned:
2oz Yuu Baal Espadin Joven, Oaxaca, Mexico (750ml)⁠⠀
1/2oz Bittermilk No. 6 Oaxacan Old Fashioned, Charleston, SC ⁠⠀
1 Pinch of cocoa nibs⁠⠀
1 Peel or slice of a blood orange⁠⠀
*Optional 1 crushed Amarena Cherry ⁠⠀
⁠⠀
Pour liquid ingredients into a small rocks glass. Add ice and stir until the outside of the glass is frosty. Use a lighter to smoke the peel of a blood orange and drop it into the cocktail as garnish. Top with cocoa nibs. *Optional, to add more sweetness, crush an Amarena Cherry into the bottom of the glass first.⁠⠀
Winter Fruit Box. A curated selection of winter fruit. The CUESA Farmers Market Box is a curated selection of some of the best and freshest offerings from San Francisco's beloved Ferry Plaza Farmers Market, available for delivery or contactless curbside pickup on Saturdays.
Shop the Ferry Building from Home! The door-to-door delivery service is available just in time for the holidays, allowing you to support small businesses with big convenience. From Cowgirl Creamery cheese and confit to Golden Gate Meat Company bacon, Bay Crossings books and gifts, Imperial Teas, and much more! Use code FERRY10 for $10 off $35+ (valid for new Mercato users). Click here to shop.
The Ferry Building has implemented strict safety standards and guidelines so that you can shop for your locally made goods with peace of mind.
Sincerely Yours
Jasper is a convergence. Of structure and imagination. Of the classic and the eclectic. Of art and life. This 400-foot high-rise apartment building crowns San Francisco's fabled Rincon Hill and stands as an iconic addition to the city skyline. It is a statement about elegance in a place where elegance actually means something.
Be sure to follow Jasper on Facebook, Twitter, YouTube and Instagram as we share news and updates about our exciting new community. #rentjasper  It's a heck of a place to call home.