Sat / 23 January 2021
Public Art Walk Around Jasper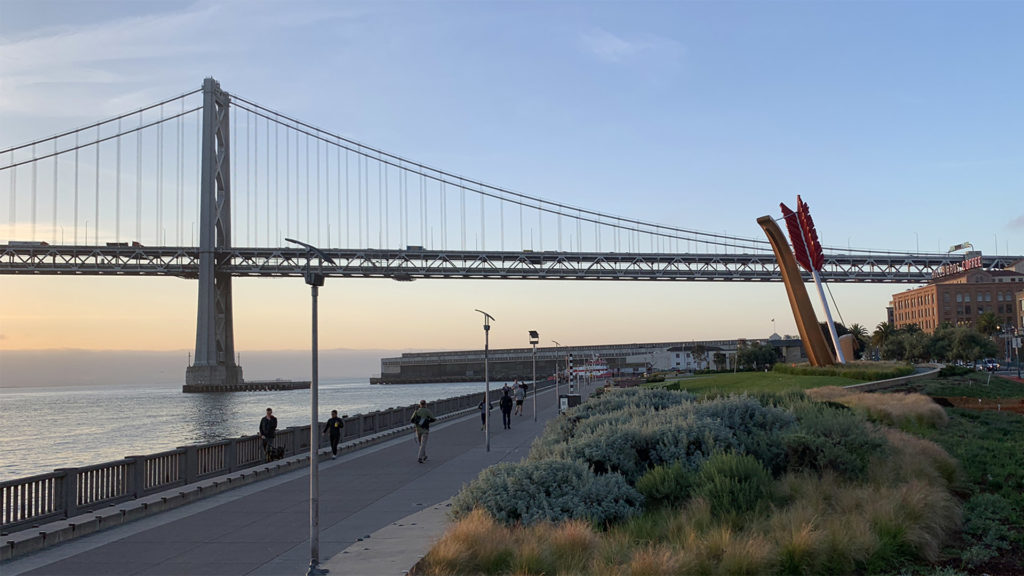 Let's check out some public art close to your Jasper home! Map yourself out a self-guided walking tour with world-renowned public art. We've listed a few to get your started:
Guy Place Mini Park featuring a steel fence designed by artist Adriane Colburn. The "Geologic Ghost," is a waterjet-cut steel fence designed by artist Adriane Colburn, who was inspired by both the geology and history of Rincon Hill.
Barry McGee at 255 3rd Street. The piece involves seven multicolored abstract and figurative drawings against white walls, up and down the sides of the six-story garage.
The Kilroy Three by Jon Krewczyk at 303 Second Street Plaza. This massive patina bronze structure has three large pieces spread in a line across the plaza. Krawczyk works on many scales, but this massive piece is truly impressive and gorgeous, his love for organic shapes shines in this piece.
Making the World Many by Anish Kapoor at 235 Second Street. This prominent piece was created in 1997 by Kapoor in Neo-Expressionism style. The outdoor POPOS has a large plaza with great sunlight.
Globe by Topher Delaney at 299 Second Street. The Clancy POPOS features the sculpture, "Globe" by Topher Delaney, fire pits, unique heating lamps, and ample seating.
555 Mission Plaza plays host to a collection of sculptures including Moonrise by Ugo Rondinone and a colorful art installation called Human Structures by Jonathan Borofsky.
Annular Eclipse by George Rickey at 560 Mission Street. Located in a POPOS with several other open spaces. A unique element at this site is the kinetic wind sculpture that turns according to the wind.
Shaw Alley at 535 Mission Street features a historic brick facade, an eye-catching sculpture by The Band by Anton Josef Standteiner, and a colorful light installation Applique da Parete by Gordon Huether.
199 Fremont Street is a POPOS featuring a poetry/sculpture garden that combines the talents of Robert Hass, a world famous poet and Big Bertha sculpture by Paul Kos, a world-class sculptor.
Hills Plaza is located along The Embarcadero with a sculpture titled The Taster by Spero Anargyro. It is a 9' tall bronze beauty finished in 1992.
Cupid's Span by Claes Oldenburg and Coosje van Bruggen at Rincon Park. By burying the central part of the bow and the arrow, the couple managed to construct a metaphor of a ship and a suspended bridge, some of the features typical for San Francisco.
Time Signature by Richard Deutsch. This is a landmark sculpture that juxtaposes five curved stainless steel vessels that soar to 48 feet.
Not Out of the Woods Yet by Richard Deacon at 500 Howard Street. This piece was made from aluminum tread plate. Richard's works make viewers sense connections between physical feelings and inner dispositions to use certain words in describing them.
The Bay Lights is a site-specific monumental light sculpture and generative art installation on the western span of the San Francisco–Oakland Bay Bridge, designed by world-renowned artist Leo Villareal.
Heather Day Mural at 580 Howard Street. Bay Area-based artist Heather Day is known for her vibrant, abstract paintings, often highly pigmented, which radiate energy.
Privately-owned public open spaces (POPOS) are publicly accessible spaces in forms of plazas, terraces, atriums, small parks, and even snippets which are provided and maintained by private developers. Please mask up, keep your distance and check the accessibility and hours before heading out.
The Royal Treatment
In ancient Greece, any guest could be a god. That's how we think of our residents and the folks they invite over. It translates to more than just respectful customer service. It means genuine empathy and concern for people's well-being. Our 24/7 on-site staff obsess over details to make your home life warm and comfortable. You can hit them up for anything from laundry pickup and local organic food delivery to dog walking and excursion planning. Friendliness begets friendliness. Joy yields more joy. That's what it's all about. Discover new, luxury San Francisco apartments at Jasper in Rincon Hill. Be sure to follow Jasper on Facebook, Twitter, YouTube, and Instagram as we share news and updates about our exciting new community. #RentJasper It's a heck of a place to call home.