Wed / 10 February 2021
7 Spots to Roll into Spring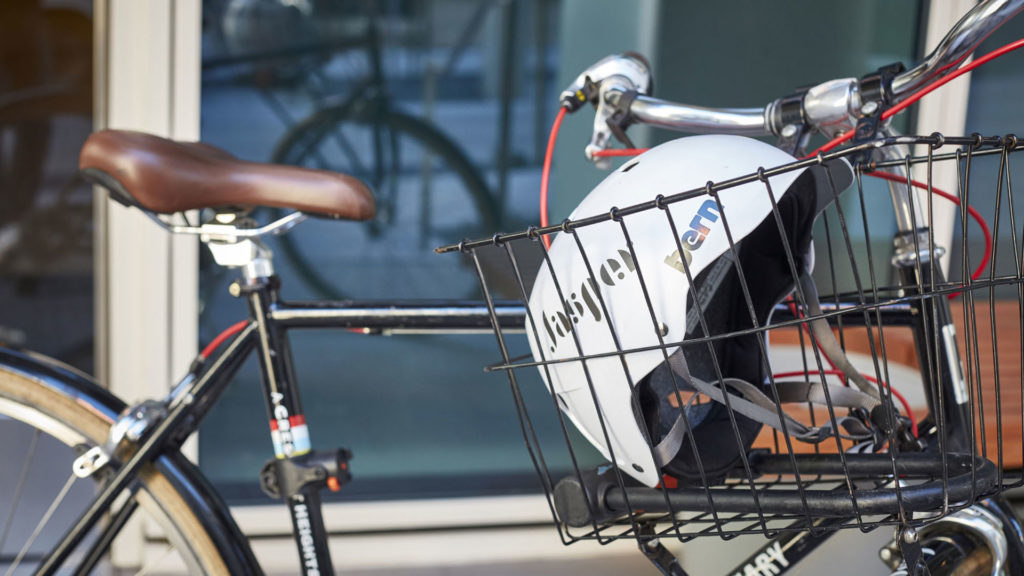 As March rolls in, it brings a fresh new season! With scenic vistas at nearly every turn and more bike lanes being built every day, San Francisco is well-known as a two-wheeled haven for cyclists. The bicycle network makes up hundreds of miles of city streets. With Jasper's easy access to SoMa and downtown, we've gathered 7 spots to roll into your spring adventures.
San Francisco Bay Trail, 4 minutes by bike. With over 350 miles in place, the Bay Trail connects communities to parks, open spaces, schools, transit and to each other, and also provides a great alternative commute corridor.
Yerba Buena Gardens, 5 minutes by bike. There's a lot to explore at Yerba Buena Gardens. YBG's five-acre Esplanade of landscaped lawns, trees, flowers, falling water, public art, and small cafes. Each of the public gardens combines design and plantings to reflect the diversity of cultures in San Francisco and the world. The open sky and the backdrop of buildings and bridges create a serene oasis in the middle of the bustle of downtown. Pedal your bike and plan your visit with the YBG map here.
Embarcadero Center, 7 minutes by bike. Spanning four blocks in the heart of downtown San Francisco, Embarcadero Center is one of the largest mixed-use complexes in the Western United States. Featuring a unique history and award-winning architectural design, Embarcadero Center offers four buildings with luxury offices space, hundreds of shops, restaurants, services and a state-of-the-art multi-plex cinema.
Rincon Park, 7 minutes by bike. This beautiful waterfront park features a promenade with a giant bow and arrow sculpture, plus Bay Bridge views. Pack a lunch and bring your camera to capture stunning spring City views.
Ferry Building Marketplace, 8 minutes by bike. Grab your bike and spend a day at the at the San Francisco Ferry Building indulging in a feast for the senses with a plethora of merchants. Along with the delightful bites and shopping at the Ferry Building, the Ferry Plaza Farmers Market is a huge hit. Utilize your bike basket and stock up on seasonal fruits, vegetables, herbs, flowers, meats and eggs from small regional farmers and ranchers. After an afternoon of delicious fare, tote your treasures home on two wheels. The market is open three days a week: Tuesdays, Thursdays and Saturdays.
The Wiggle to Golden Gate Park, 23 minutes by bike. The Wiggle is a one-mile, zig-zagging bicycle route from Market Street to Golden Gate Park that minimizes hilly inclines for bicycle riders. Starting in the Mission District at the intersection of Market and Duboce Street, simply follow the green bike signs tagged with the number 30. The route snakes through the Lower Haight District to join up with another bike path at Panhandle park that will lead you into Golden Gate Park.
Golden Gate Park Loop, 33 minutes by bike. The full loop is 7.5 miles of paved trail, although you can easily "choose your own adventure" and take a shorter path. There are several family-friendly attractions including a playground, carousel, picnic area, and two dog parks. We recommend visiting on a Sunday; the main entrance to the park is closed to cars to give bikers, walkers, and runners free reign to explore the wide open spaces. View a map of the park trails and attractions here.
The Royal Treatment
In ancient Greece, any guest could be a god. That's how we think of our residents and the folks they invite over. It translates to more than just respectful customer service. It means genuine empathy and concern for people's well-being. Our 24/7 on-site staff obsess over details to make your home life warm and comfortable. You can hit them up for anything from laundry pickup and local organic food delivery to dog walking and excursion planning. Friendliness begets friendliness. Joy yields more joy. That's what it's all about. Discover new, luxury San Francisco apartments at Jasper in Rincon Hill. Be sure to follow Jasper on Facebook, Twitter, YouTube, and Instagram as we share news and updates about our exciting new community. #RentJasper It's a heck of a place to call home.