Tue / 9 February 2021
Flower Arrangement Tips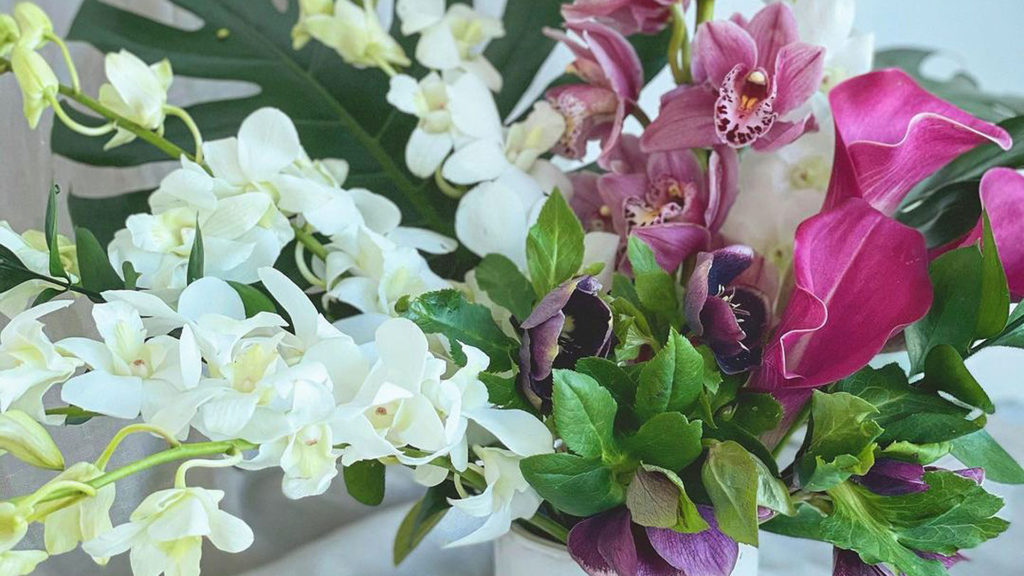 Are you a florist at heart? Flowers have been proven to have numerous benefits to make you healthy and happier. Improving your mood and boosting your memory are a few benefits that you can expect from the simple act of adding flowers to your home. Turn your beautiful blooms into an envy worthy elegant arrangement with a polished touch for your Jasper table with these easy tips.
Gather Your Tools. You'll need clean clippers, a vase and flowers. If you want to add some extra flair, depth and support to your arrangement, gather some foliage as well.
Find Your Flowers. Create a mix of complementary colors and varieties or choose one shade or variety. Don't forget to add greenery for texture and color. Use fresh, local, and seasonal flowers. *See below these tips for local spots to snag your blooms.
Choose Your Vessel. A rectangular tabletop vase is recommended for beginners. It will make a medium-sized arrangement — perfect for your Jasper coffee table or a gift for a friend.
Size Matters. Make your bouquet taller than its container by about one and a half times. Also, make the width balance the height. Make the greenery higher on one side and let it spill over on the other to give your arrangement a slight S-curve design, which will make you look like a pro!
Go for a Grid. Make a quick and easy grid-like pattern using strips of clear florist tape to help guide your flower arranging and keep stems upright. Disguise any visible tape with green or floral elements in your design.
Cut Correctly. Cut an inch off the stems using a sharp knife, especially if the flowers will sit a while before being arranged. The fresh cut will help the stems absorb water better. Remove any leaves that will sit below the water level of the vase.
Trim at an Angle. Recut stems just before adding them to the arrangement. Strip off any leaves that fall below the water line. After trimming, place them in water immediately.
Water Works. Put flowers in water as soon as you get them home. Fill buckets with tepid water, add floral preservative, and then add flowers. Then, change it out once a day or every other day to keep bacteria from growing and, as a result, your flowers living longer.
Sort by Size. Add your larger headed blooms first and earlier turning the arrangement as you go to make sure the arrangement is symmetrical. Fill in with tighter (or smaller), airier blooms, and leave enough space between the stems so individual flowers have room to shine. Include flowers with various shapes and stem lengths.
Mix in Different Textures. Monochromatic arrangements are best created using flowers with varying textures—that way you'll be able to see each flower without seeing just color.
Finishing Touches. Finish the arrangement by adding greenery, grasses, or berries. Keep flowers away from sunlight and heating vents. Recut stems and add water often.
Local Spots to Find Fresh Blooms:
CUESA Ferry Plaza Farmers Market. The best part of buying flowers from Ferry Plaza Farmers Market is making everyone wonder who they are destined for. The market takes place on Saturday (8 am to 2 pm), Tuesday (10 am to 2 pm), and Thursday (10 am to 2 pm), year round, rain or shine. If you're looking to gift your arrangement, add a sweet embellishment by shopping the Ferry Building from Home.
Romy Floral Design pops up just in time for Valentine's Day. San Francisco based floral studio, Romy Floral Design, heading to the Ferry Building to sell bouquets and arrangements for the special someone in your life. Established in 2020 by Romy Deselover, the shop offers pre-order and delivery, so be sure to grab a Cherry Melt or Crimson Crush Bouquet before they sell out! The shop will be open on Saturday, February 13, and Sunday, February 14, from 10 a.m. to 7 p.m.
Rozgol's. Born in The East Cut! Neighborhood resident and business owner Roza creates fresh chic and iconic flower arrangements, sourced from local flower farms. Rozgol offers the most unique designs based on the customer's color theme preferences. Ideal for Valentine's Day!
The San Francisco Flower Market. 640 Brannan Street, 1 mile from Jasper. Dubbed "the best flower market in the country" by Martha Stewart Living, SFFM is one of only five grower-owned wholesale flower market in the U.S. This unique flower haven has a tiny window during which it's open to the public, from Wednesdays through Saturdays from 8am-1pm, but making time in your schedule for the trip is very worth it.
Image credit: https://www.instagram.com/rozgols/
The Royal Treatment
In ancient Greece, any guest could be a god. That's how we think of our residents and the folks they invite over. It translates to more than just respectful customer service. It means genuine empathy and concern for people's well-being. Our 24/7 on-site staff obsess over details to make your home life warm and comfortable. You can hit them up for anything from laundry pickup and local organic food delivery to dog walking and excursion planning. Friendliness begets friendliness. Joy yields more joy. That's what it's all about. Discover new, luxury San Francisco apartments at Jasper in Rincon Hill. Be sure to follow Jasper on Facebook, Twitter, YouTube, and Instagram as we share news and updates about our exciting new community. #RentJasper It's a heck of a place to call home.