Mon / 8 February 2021
Sweet Treats around Jasper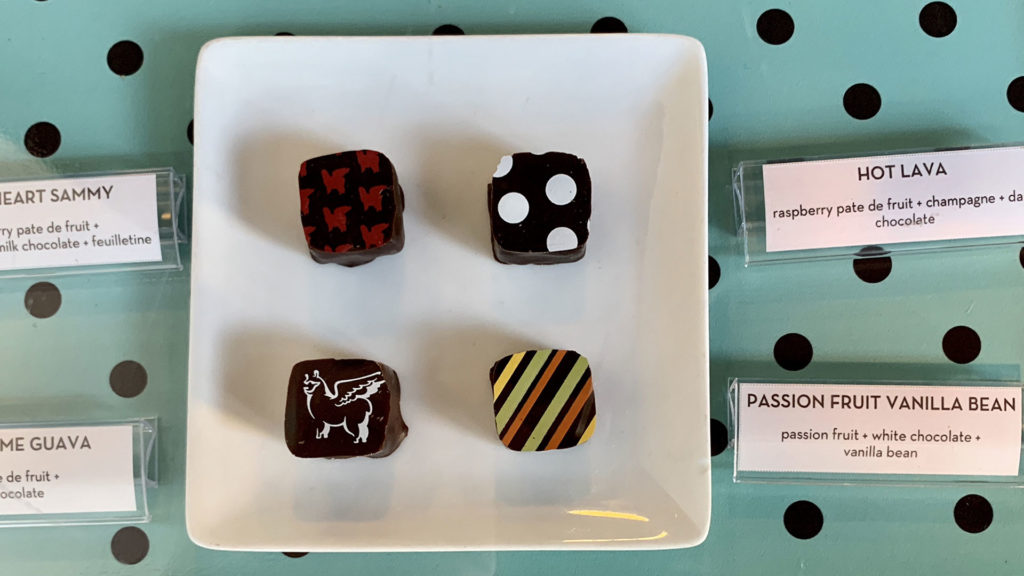 Sometimes we just need a sweet fix. Whether it's at the end of a great meal, an afternoon pick-me-up or even a treat to kick start your day (we won't tell), sometimes a little sweet indulgence is a must. We've gathered a few treats and sweet spots close to your Jasper home.
Socola Chocolatier / 0.2 miles from Jasper. Socola handcrafts artisanal confections with modern flavors and a fantastic taste of fun. Try the Crispity Crunchity Cinnamon Toast Crunch combined with a heavenly milk chocolate. All the best memories of your childhood in the palm of your hand.
Beard Papa Sweets Cafe / 0.8 miles from Jasper. Pick your shell then pick your filling! Known throughout the world for the freshest, flakiest, and most delicious cream puffs. Which will you love more, vanilla or strawberry filling?
Humphry Slocombe at the Ferry Building / 0.9 miles from Jasper. Enter this bizarre, delicious, frozen universe housed in the Ferry Building. Treat: Secret Breakfast Ice Cream, made with bourbon and corn flake cookies. You can also try the recipe in your Jasper kitchen!
A few of our other favorite sweet treats at the Ferry Building are: Macarons from Miette, Gâteau Basque
from Dandelion Chocolate, California Lemon Cake from Mariposa Baking Company, Lemon & Ginger Meringue from Smooch Tarts, and Red Wine Pairing Collection from Recchiuti Confections.
Whole Cakes / 2 miles from Jasper. Delicious and healthy cakes made of quality organic ingredients supplied locally. Try the Signature Green Tea Cake. Offering up a delicate Matcha flavor with a hint of seasonal fresh fruit.
Not all sweet spots spike your blood sugar, some are pure eye candy. We've rounded up a few sweet spots that are sure to satisfy your senses, all within walking distance of Jasper.
Salesforce Park / 0.4 miles from Jasper. Located seventy feet above the Grand Hall and open to the public as well as the sky. Running the entire length of the center, the 5.4-acre rooftop park stretches nearly 4 blocks and features a beautiful landscape with 600 trees and 16,000 plants arranged in 13 different botanical feature areas.
Rincon Park /0.6 miles from Jasper. This beautiful waterfront park features some of the most coveted views in San Francisco and a promenade with a giant 60 foot tall bow-and-arrow sculpture known as "Cupid's Span" and designed by internationally renowned sculptors Claes Oldenburg and Coosje van Bruggen. Pack a lunch and bring your camera to capture stunning City views at this waterfront location.
Pier 14 / 0.8 miles from Jasper. Take a sweet stroll along San Francisco's Embarcadero and you'll stumble upon Pier 14. You'll enjoy stunning views of the Bay Bridge and San Francisco skyline along with public artwork, breezy walkway, and welcoming chairs. Venture out onto the Pier's 637-foot length and the sounds of the wind and the water seem to swallow all other noises. This is an amazing place to watch the lights on the Bay Bridge and the city lights blink on as the sun goes down.
Ferry Building / 0.9 miles from Jasper. Spend a day indulging in a feast for the senses with a plethora of merchants. Along with the delightful bites and shopping at the Ferry Building, the Ferry Plaza Farmers Market is a huge hit.
Take your sweetie by the arm and stroll around the neighborhood during a self-guided artwalk including Guy Place Mini Park and the The Kilroy Three.
Sincerely Yours
Jasper is a convergence. Of structure and imagination. Of the classic and the eclectic. Of art and life. This 400-foot high-rise apartment building crowns San Francisco's fabled Rincon Hill and stands as an iconic addition to the city skyline. It is a statement about elegance in a place where elegance actually means something.
Be sure to follow Jasper on Facebook, Twitter, YouTube and Instagram as we share news and updates about our exciting new community. #rentjasper It's a heck of a place to call home.